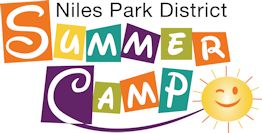 WELCOME TO SUMMER CAMP 2019!
Online Registration for Summer Camps is unavailable. Please contact Howard Leisure Center at 847-967-6633 for more information and registration.

Niles Park District offers flexible schedule options to choose which days your camper attends from the 11 weeks of fun! June 3 to August 16. We invite you to register for one of our many camp options. We are looking forward to a safe and fun 2019 Summer!
Camps for Preschoolers to Teens.

Funtastic Counselors, experienced staff, low camper-to-counselor ratio.

Weekly Themes, Special Events, Games, Art, Music, Sports, Swimming, Field Trips- A little bit of something for everyone!

Flexible Options for All Camps- Choose from 1 to all 5 days a week & choose how many weeks your child will participate!

SUMMER CAMP OPEN HOUSE-
Pint Size Pioneers, Kiddie Kamp, Lil Campers- Wednesday, May 29: 6:30-7:30 pm @ Howard Leisure Center
Voyagers & Explorers- Wednesday, May 29: 6:30-7:30 pm @ Oasis Fun Center
All Sports Camps- Tuesday, May 28: 7:00 pm @ Grennan Heights
Visit the camp site.

Meet the counselors.
Pick-up camp information and child's t-shirt.
Bring a photo of your child.
Ask any questions that you may have.
View our Camp Guide HERE, or click below for your age-specific camp!
EARLY CHILDHOOD CAMPS:
Pint Size Pioneers- Ages 3 & 4
Kiddie Kamp- Ages 5 & 6
Lil Campers- Ages 3-6


RECREATION CAMP PROGRAMS:
Voyagers Camp- Grade Kindergarten-3rd
Explorers Camp- Grade 4th-8th
SPORTS CAMP PROGRAMS:
All-Sports Mini-Camp- Grade 1st-8th, Half Day
All-Sports Summer Camp- Grade 1st-8th


SUMMER CAMP EXTRAS:
Before & After Camp Care
Camper Swim Lessons


Summer Dance Camps



ICELAND SUMMER SKATING & HOCKEY CAMP: (Register at IceLand, 8435 Ballard, Niles)
IceLand Summer Skating Camps