Santa Mailbox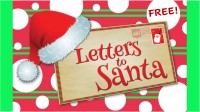 From November 20, 2020 08:30 AM until December 18, 2020 05:00 PM
Christmas is coming! Get ready to drop off or email your letter to Santa.
Letters can be dropped off in our special mailbox at the Howard Leisure Center, 6676 W. Howard. Kids can also email Santa at santa@santamailbag.com.
Letters must be received by Friday, December 18. This is a free event.