Tam Tennis Club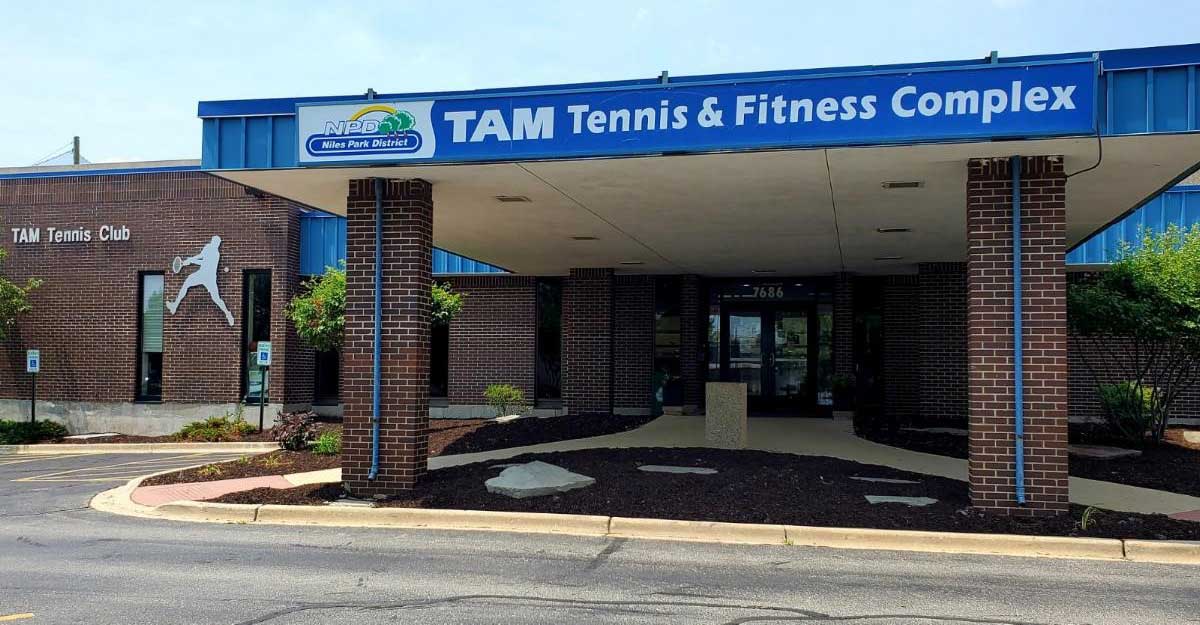 7686 N. Caldwell Avenue
Niles, IL 60714
Hours
Monday-Friday:  6:00 am-10:00 pm
Saturday:  7:00 am-10:00 pm
Sunday:  7:00 am-9:00 pm
Contact
Laura Newton (Tam Tennis Club Manager)
Jackson Theil (Tam Tennis Assistant Manager)
Features
8 indoor tennis courts
Online Court Reservations-

You must be a tennis member to book a court online!

1 racquetball court
Member and Non-Member court rates
Tennis lessons for all ages and levels (limited in Summer)
Tennis classes for adults & juniors (adult classes not offered in Summer)
Ball Machine:  $10
Fitness member classes & fitness equipment
Locker & shower facilities
You must complete and sign a membership application and submit payment for Niles Park District to process membership.  A photo ID card will be issued for your use when visiting.
Senior Memberships are for all members 62 or older.  An authentic proof of age must be presented.
Junior Memberships, boys and girls, 19 & under, require the consent signature of a parent or supervising adult.
All memberships are renewable annually.
Memberships are not transferable or assignable.
Resident rates are for all Niles Park District residents only (proof of residency is required).
All memberships can be renewed at the Howard Leisure Center located at 6676 W. Howard Street or Tam Tennis, 7686 N. Caldwell.
Tennis Membership Rates- Annual
 
 Junior
 Adult
 Senior
 (62+)
 Couple
 Couple
 +1 Child
 Addt'l
 Child
 Res
 $92
 $173
 $69
 $247
 $273
 $40 per
 Non-Res
 $144
 $288
 $144
 $442
 $510
 $69 per


Tennis Membership Rates- Seasonal Option (Adult & Senior Memberships only)
Indoor Season:  September 1-May 31
 
 Adult
 Senior
 (62+)
 Res
 $130
 $55
 Non-Res
 $216
 $108
Tennis Membership Application

Tennis Membership Requirements/Privileges:
Membership is required for all regularly scheduled private lessons, permanent court time, team and league play.  Non-members may sign up for open court time on a day before or stand-by basis only.
Members will have two weeks in advance reservation privileges of open court time.
Members have a significant rate difference for lessons, classes, and courts versus resident or non-resident.
ONLINE COURT RESERVATIONS- You must be a tennis member to book a court online!
Court Fees
Court times may be reserved during the regular hours of operation.  Members may reserve court time up to fourteen days in advance.  Non-members may reserve court time 24 hours in advance with credit card, and pay appropriate guest fees upon arrival. (Guest fees are found below.)

Cancellation Policy:  If you do not cancel 24 hours in advance, your credit card will be debited in full.
 COURT FEES PER HOUR
 MEMBER
 RESIDENT
 NON-RES
 ADULT (Ages 20-61)
 $28
 $38
 $42
 SENIOR (Ages 62+)
 & JUNIOR (Ages under 20)
 $23
 $30
 $34
 RACQUETBALL/HANDBALL
 $20
 $24
 $28

Guest Fees: 
Resident $10
Non-Resident $13
Junior (up to 19) $8
Senior (62+) $8
We are happy to provide you a safe and healthy experience.
The indoor track at Golf View is free of charge.
You must provide your own water bottle and towel.
INDOOR FITNESS SCHEDULE- Fall & Winter
NEW FITNESS MEMBER FORM (Want to become a member?  Please fill out and return to robin@niles-parks.org)
GOLF VIEW HOURS OF OPERATION:
Monday-Friday:  6:00 am-8:00 pm
Saturday & Sunday:  7:00 am-5:00 pm
TAM TENNIS HOURS OF OPERATION:
Monday-Friday:  7:00 am-7:00 pm
Saturday & Sunday:  8:00 am-4:00 pm